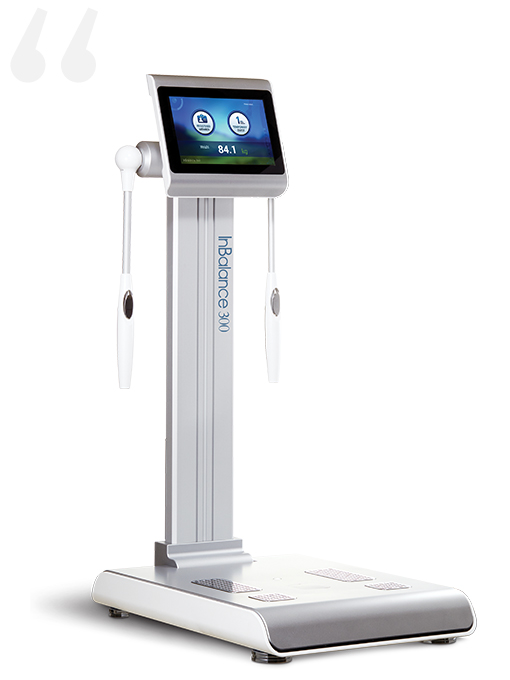 InBalance 300

InBalance 300 is a Body Composition Analyzer which can access the data anytime, anywhere via app or web.

It is differentiated product with 4 multiple frequencies which measures 20 different impedance values, and stores the data in server by wired / wireless networks, and can be accessible in real time.

For more information, please download the pdf file.
Rich Information in Simple Form!
Perfect Basics in Body Composition Analysis

Overall obesity diagnosis using BMI & body aft mass ratio
aist-hip ratio & Visceral fat area analysis
Segmental analysis for fat & muscle
Well-formatted display with easy data recognition
Observation of changing trend by accumulated data management
Conveniences for Both of User and Admin

* InBalance 300 app is available at Apple App Store and Google Play Store.
Wide scale (10.1") touch screen LCD for user convenience
Intuitive UI for self measurement
Offering overall data for easy understanding
Measured data management by user registration
Offering App for membership management, for administrator in
hospitals or for trainers in the gym(Optional)
Connectivity Makes it Smart

* InBalance 300 app is available at Apple App Store and Google Play Store.
Automatic upgrade of the built-in software
Internet connectivity via WiFi and LAN
Wireless (Bluetooth, WiFi) printer supported
External interface for interconnection with other devices
(BP monitor, stadiometer, exercise equipment and soon)
Web & mobile app supported based on cloud service
Simple membership management using barcode
Designed based on standard API for other medical devices and
healthcare services to be connected to the same Smart Healthcare
Platform
App & Web Service Smart Device.

Registered user can access the recorded measuring data anywhere,
anytime.
Ergonomic Design

Wide Display and fixed hand grips are ergonomically designed to
offer comfortable measuring posture to everybody.
Screen Configuration for Self-Use

Intuitive display UI enables users to measure without assistance.
Auto Update

Keep the unit updates automatically to maintain ultimate working
condition.
The best solution for chains of fitness center & gym

Thanks to above smart features, smart member management is available in a gym, and in particular, gym chains with an optional mobile app supplied by third-party supplier.
Easy sign-in using a bar code displayed on app
The measuring result is displayed right away on the app, and/or on
the web, and is saved automatically on the gym server and/or in
service cloud
In case of the gym chains, the measuring records could be checked
in any gym of the chains
Various kind of exercise and dietary recommendation is available on
the app and/or web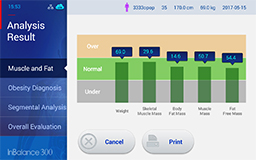 ▲ Perfect Basics in Body Composition Analysis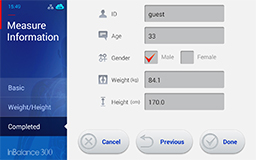 ▲ Conveniences for Both of User and Admin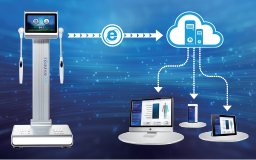 ▲ Connectivity Makes it Smart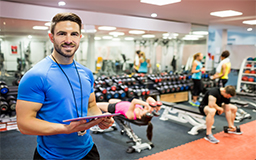 ▲ The best solution for chains of fitness center & gym
| | |
| --- | --- |
| Measuring Method | Multi Frequency, Segmental Bioelectrical Impedance Analysis using 4 different frequencies(5㎑, 50㎑, 100㎑, 250㎑) to measure 20 impedances of 5 body segments (trunk, left arm, right arm, left leg, right leg) |
| Electrode Method | Tetrapolar 8-point tactile electrodes |
| Measuring Items | Body Water (Intra-Cellular Fluid, Extra-Cellular Fluid), Mineral, Protein, Body Fat Mass, Fat Free Mass, Weight, Muscle Mass, Skeletal Muscle Mass, Segmental Muscle Mass, BMI(Body Mass Index), Percent Body Fat, Obesity Degree, Waist-Hip Ratio, Visceral Fat Area, Figure type, Body Ratio, Basal Metabolic Rate, Recommended Weight Control, Recommended Fat Control, 1 Day Required/ Recommended Calories, Overall Score, Abdomen Diagnosis, Measuring History, Impedances for each frequency. |
| Measuring Range for Age | Age over 5 |
| Measuring Range for Weight | 10 to 250 ㎏, 22 to 551 pounds |
| Measuring Time | Within 70 seconds |
| Display | 10.1" IPS Panel with capacitive touch, resolution of 1280 x 800 pixels |
| Data Storage | Measured data can be stored after login 100,000 times (off-line, using built-in memory), unlimited (online, cloud) |
| Communication Interface | USB (x4), WiFi, LAN, RS232C (x2), Bluetooth (optional, using USB) |
| Mains(Power) | 100-240V~, 50/60Hz |
| Current for Measuring Impedan | 500μA (rms) |
| Electricity Consumption | 35VA |
| Smart Function | If connected to InBalance Cloud Service by user registration and login, all the measuring history could be checked using InBalance App (Android, iOS) and web service |
| Dimension(WxDxH) | 640×450×1040 ㎜ / 25.2″×17.7″×41″ |
| Weight | 30㎏ / 66Ibs |
| Packing Size (WxDxH) | 1160×520×230 ㎜ / 46″×20.5″×9.1″ |
| Gross Weight | 31㎏ / 68Ibs |
| Manufacturer | Device display name | Emulation | Compatible Printers |
| --- | --- | --- | --- |
| Samsung | SL-C432 | SPL | |
| Samsung | SL-C1454FW | PS | |
| Samsung | SL-C1404w | PS | |
| Samsung | M202x | SPL | M2024, M2026, M2027, M2028 |
| HP | Officejet Pro 8640 | PCL | |
| HP | LaserJet P1102 | ZJS | P1102, P1106, M12W |
| Cannon | M3630 | | |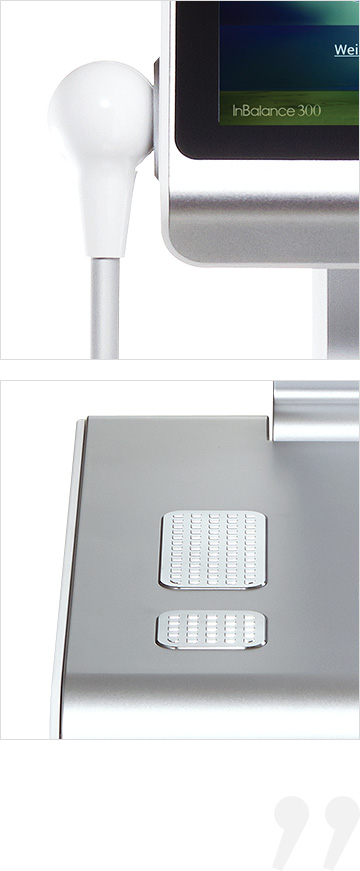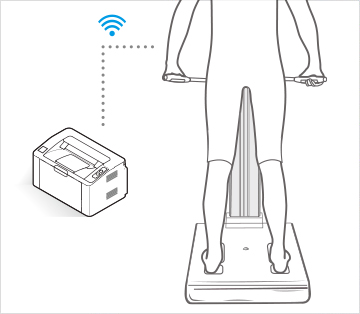 Anytime, Anywhere.. Real Smart "InBalance"